Small Lots  |  Single Clones
We have long cherished the dedication to craftsmanship and respect for terroir that created and sustained the Napa Valley. We've always forged wines that capture the entire cross-section of the growing process. The soil, elevation, climate, growers, microbiology and winemaking crew all influence what ends up in the barrel. Our objective is to seek out the best of all those qualities and express them through impeccable and indicative wines. Every vintage, we explore and celebrate the manifold flavors of the Napa region, from the valley floor to hillside vineyards.
"Nurturing quality begins in the vineyards, is harnessed during winemaking, then carefully expressed with artful blending."
Bell Wine Cellars has a history of producing wines that are elegantly balanced and built to last. Our lineup echoes the diversity of the Napa Valley, from appellation-specific Chardonnay to single-clone Cabernet Sauvignon.
Winemaker John Hazak brings equal parts scientific rigor and artistic expression to the cellar, turning out wines that impress upon release and gain complexity over time. Bell's winemaking team works intimately with some of the region's premiere vineyards, turning diligently-grown fruit into award-winning wine.
"Nurturing quality begins in the vineyards, is harnessed during winemaking, then carefully expressed with artful blending," John says.
John Hazak
WINEMAKER & GENERAL MANAGER
After spending a number of years in archaeology, a fortuitous series of events brought John to his true passion, winemaking.  Leaving his native southern California, John heard the call from the vineyards of Napa, and moved north to earn a Master of Science degree in Viticulture and Enology from the University of California, Davis.
Upon finishing his degree at U.C. Davis, John spent some time working in the Cotes-de-Nuits, Burgundy.  Returning from France in early 2005, John honed his skills as Assistant Winemaker at Provenance Vineyards under seasoned winemaker Tom Rinaldi, specializing in wonderful Cabernet Sauvignon, Merlot and Sauvignon Blanc from Rutherford.  Several years later, John joined Sterling Vineyards as an Associate Winemaker, heading their production of all white wines and Reserve red wine tier.  In May of 2015, John returned to Provenance Vineyards, where he directed luxury production of all Provenance and Hewitt wines.  During that time, he helped spearhead a series of projects designed to modernize Provenance into a small-lot, luxury Cabernet house, and ultimately created a path for John to Beaulieu Vineyards in 2017, to help them achieve the same goal.
John recently joined Bell Wine Cellars in February of 2020.  His previous experiences paved the way to Bell, where founder and winemaker Anthony Bell had recently retired.  Bell is an ultra-premium Yountville winery known for small-lot, single clone, Napa Cabernet Sauvignon, as well as other Bordeaux varieties, Chardonnay and Syrah.  John hopes to honor Bell's vision of craft winemaking and constant improvement, while starting a new chapter with this team. John, the winemaker, has been known to join a tasting where his passion as a wine educator shines through. A visit to Bell Wine Cellars is an immersive experience as the cellar is a working winery with the winemaking team hard at work.  John enjoys sharing his knowledge and is happy to answer guest's questions.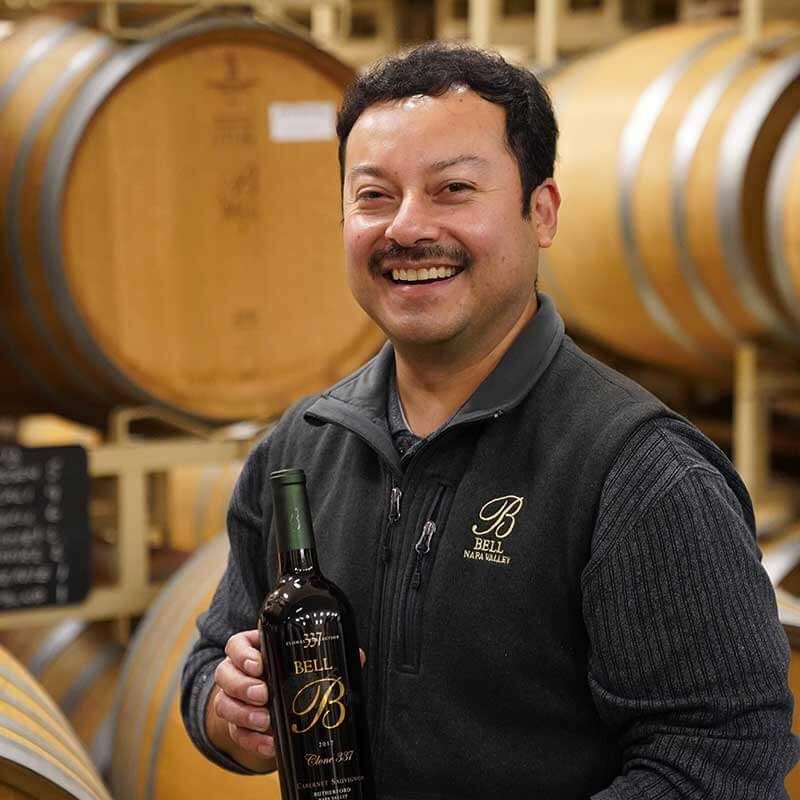 Rafael Garcia
CELLAR MASTER
Rafael immigrated to the United States from Tampico, Mexico at a young age looking for a better life. He has been in the wine industry since 2003. 
Throughout his 17 years at Bell Wine Cellars, Rafael has developed a keen palate and ability to distinguish minimal changes in quality thereby setting the bar as our gold standard for Bell wines. Currently, Rafael manages the cellar and shares his knowledge in working with and training the next generation.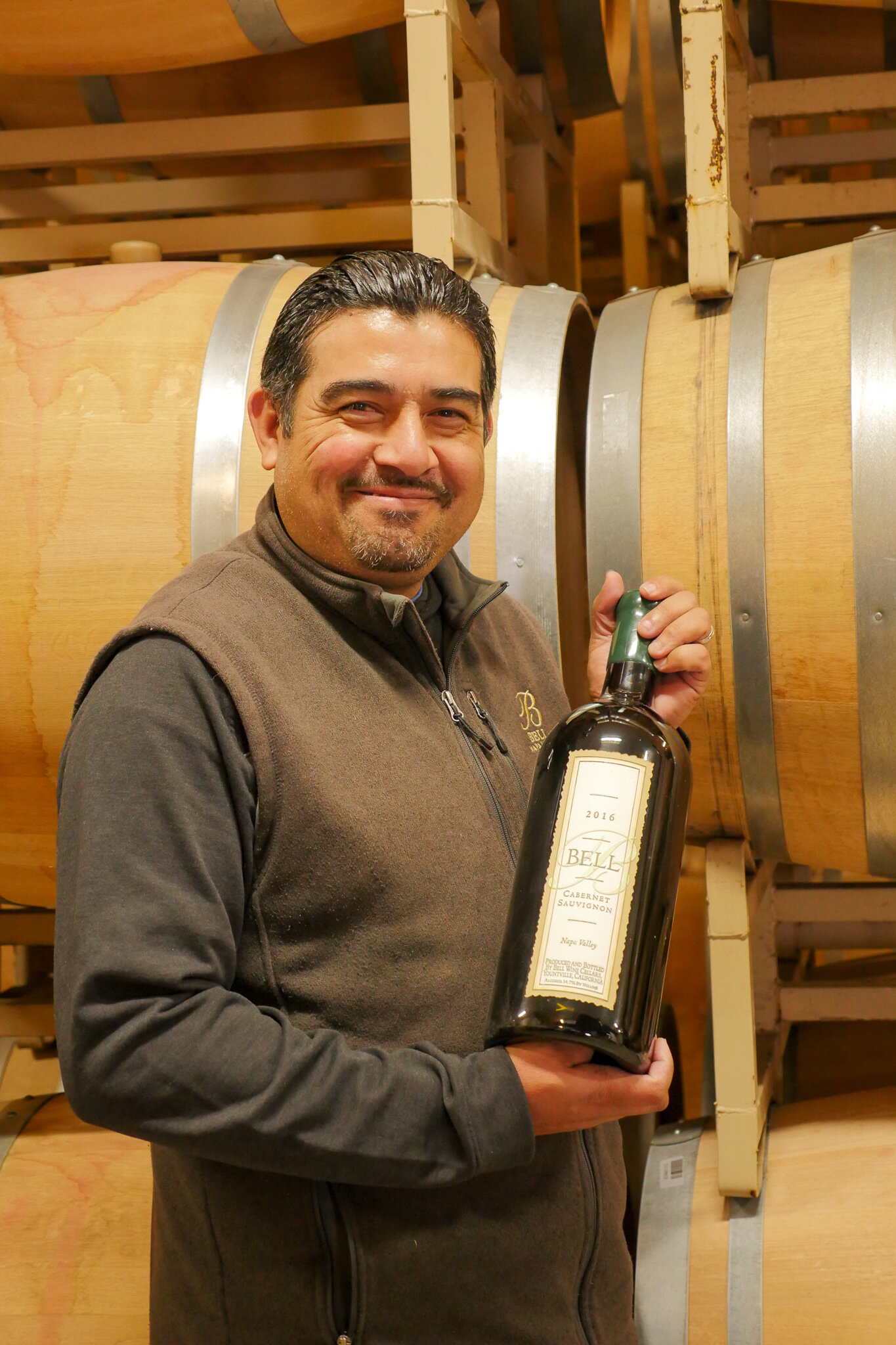 JORGE FUNES PALOMINO
CELLAR MASTER
Jorge grew up in the city of San Francisco del Rincon in Guanajuato (central Mexico), a city known for being the origin of Mexico's cry for independence from Spain, and famous for their craftsmanship of hats.  In 1996, seeking to find more opportunity in life, Jorge emigrated to Reno, Nevada.  Starting out in restaurants and landscaping, he eventually moved to Fairfield, California and met Rafael through mutual friends.  Jorge's search for a new challenge and a growing interest in wine became a perfect fit for Bell Wine Cellars, and he joined us at the start of harvest in 2021 to see if he would enjoy the winery environment.  His consistent smile and outwardly friendly nature won us all over, and he was invited to become a full-time employee at the end of that harvest.  He now has two harvests under his belt as of 2022, and has become a solid part of our family.
In his personal life, Jorge enjoys time with his family, and often travels to coastal southern California to visit extended family.  Though he left the restaurant scene, he still enjoys cooking – his favorite dishes being molé chicken and ceviché.  We've also converted him from beer to wine, and he absolutely loves Sauvignon Blanc!
Visit our Wine Shop
Explore our exceptional, hand-crafted wine collections. 
Learn the rules like a professional so you can break them like an artist.
~ Pablo Picasso